COME IN! WE'RE OPEN 7 DAYS A WEEK!
BOOK BY CALLING
204-261-8484 OR…
Dr. Sahaladen Ahmed Rhoma
Not Accepting New Patients
Dr. Fazeelat Pannu
Accepting New Patients & Walk-In
Dr. Noreen Nasir
Accepting New Patients & Walk-In, Special Interest in Women's Health
Dr. Nasir started with Brigwater Medical Centre mid-September 2018. She primarily works in Family Medicine but has special interest in Women's Health. Before she joined our full time physicians,  she had worked at St. Pierre Hospital and River Park Medical Centre. Dr. Nasir is originally from Pakistan but can speak fluently in English, Urdu, and Punjabi languages. She can perform minor surgical procedures and does IUD and Pessary insertions, as well as intra articular steroid injections in the knee joints. Dr. Nasir will accept any patients from infants to seniors! She is officially with Bridgwater Medical Full-Time, book a Meet & Greet online or call 204-261-8484!
Dr. Ahmed Jwely
Adult General Psychiatrist - Currently taking in new referrals at Seasons Medical Centre (204-219-1060)
Dr. Jwely has been practicing medicine since 2010. He graduated from The University of Western Ontario where he found his speciality in Adult General Psychiatry. He is currently working at the HSC along with working Part-Time at the Bridgwater Medical Centre. Dr. Jwely takes in referral-based appointments with standard hour-long sessions. He can speak fluently in both English and Arabic, and has been a great asset to our medical team.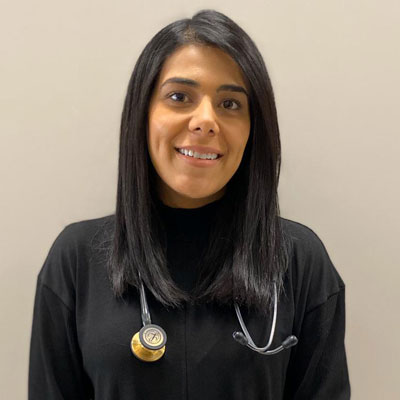 Dr. Rajpreet Kaler
Dr. Kaler is a born and raised Winnipegger!
She completed her Bachelor's of Sciences degree in 2007 and her Medical Doctorate (MD) in 2011 at the University of Manitoba.
She then went on to complete her Family Medicine residency with the University of Calgary. She successfully completed the program and obtained her CFPC certification in 2013.
Dr. Kaler established a thriving family practice in Calgary, Alberta. She has recently relocated back to Winnipeg with her husband.
Her areas of interest include general pediatric care and women's health; ranging from contraceptive management to menopausal treatment with a special interest and extensive training in IUD insertions and endometrial biopsies.
Dr. Mahmood Nasir
Accepting New Patients & Walk-In
Dr. Nasir started with Brigwater Medical Centre mid of 2019. He is currently full time phsyciain and accepting new patients.
Tamara Beauchemin
Full-Time Medical Office Assistant
Sharmina Monisha
Full-Time Medical Office Assistant
Ayat Amnaina
Part-Time Medical Office Assistant
Ayat has been a part-time employee at Bridgwater Medical since late January 2019. She's currently a full-time university student studying to become a dietitian. On top of her studies, she uses her expertise in Marketing to help both Bridgwater and Seasons' social media performance. Ayat previously graduated from Business Administration where she grew her interest in Marketing. She now owns a small online business! Ayat speaks fluently in English and Arabic, and she could also speak a little Spanish. Other than school and her job, her hobbies include interior design and she has an unexplainable love for Espresso Shots!
Saadial M Uddin
Part-Time Medical Office Assistant